Log in

and choose one of our FastPcb, ProdPCB or BestPCB services depending on your needs through price calculation you will be directed to the interface for inserting the PCB specifications.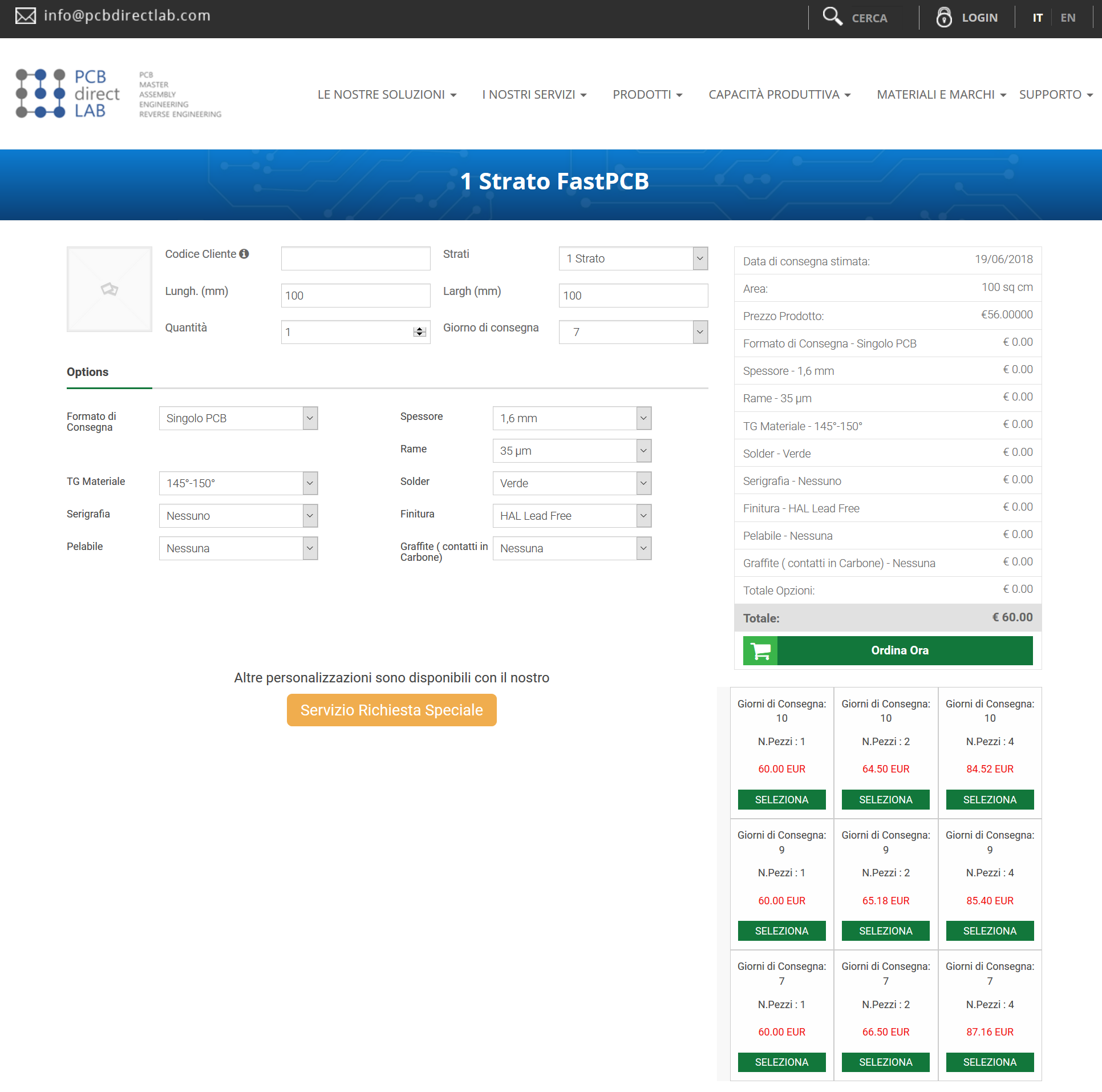 Enter the required quantity and delivery plus number of layers and dimensions, we recommend inserting in your Part Number your PCB internal identifier (so you have a better reference in the case, for example, of a material reordering).
The customer inserting all PCB specification data will immediately get a quotation. Depending on the selected service FastPcb, ProdPCB or BestPCB, the options presented will be different (see also the service description page for more details). The resulting quotation will be the final order price excluding promotional discounts, shipment and VAT.
Once you've also selected all the features you want for supplying PCBs, just select Order Now to be directed to the summary page where you can check all the order details and choose the payment method you want.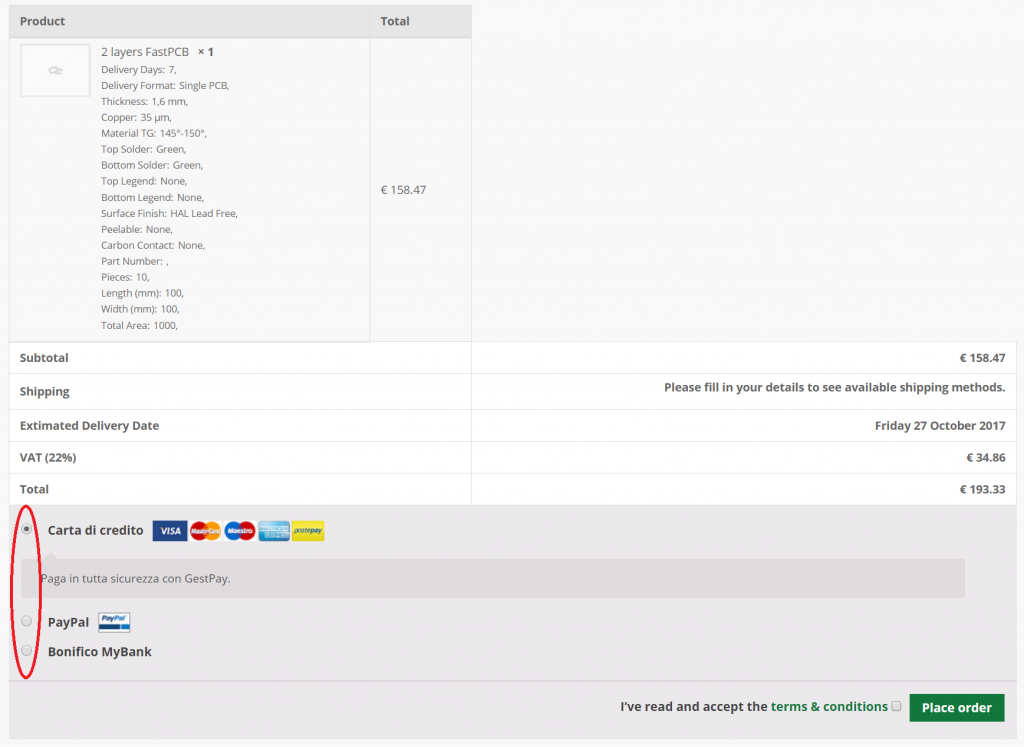 Payment Credit Card: Payment by credit card is processed by a secure Banca Sella Server, this way PCB Online s.r.l. will never collect customer credit card data. The charged value will be exactly that calculated in the order. Payment will not be made until all customer data has been checked, validated order, and production started. For more information, read also invoices and payments.
Payment PayPal: Payment by PayPal will take place in the same way as Credit Card, but debit is charged immediately, except for cancellation.
MyBank Transfer Payment: When you choose MyBank as a payment option, you are redirected to your usual online banking service. You are required to verify payment details and authorize the transaction using your usual codes. All payment information will already be precompiled, so you do not have to type endless bank numbers or other codes.
MyBank is a SEPA-based payment solution (Unique Payment Area in Euros), which can be used throughout Europe. MyBank works from any device (PC, smartphone or tablet) and allows you to finalize your purchase directly from the secure environment of your online banking. To date, more than 200 banks have subscribed to MyBank. Click here to check if your bank is already part of the MyBank ecosystem.
Read and accept terms and conditions and send order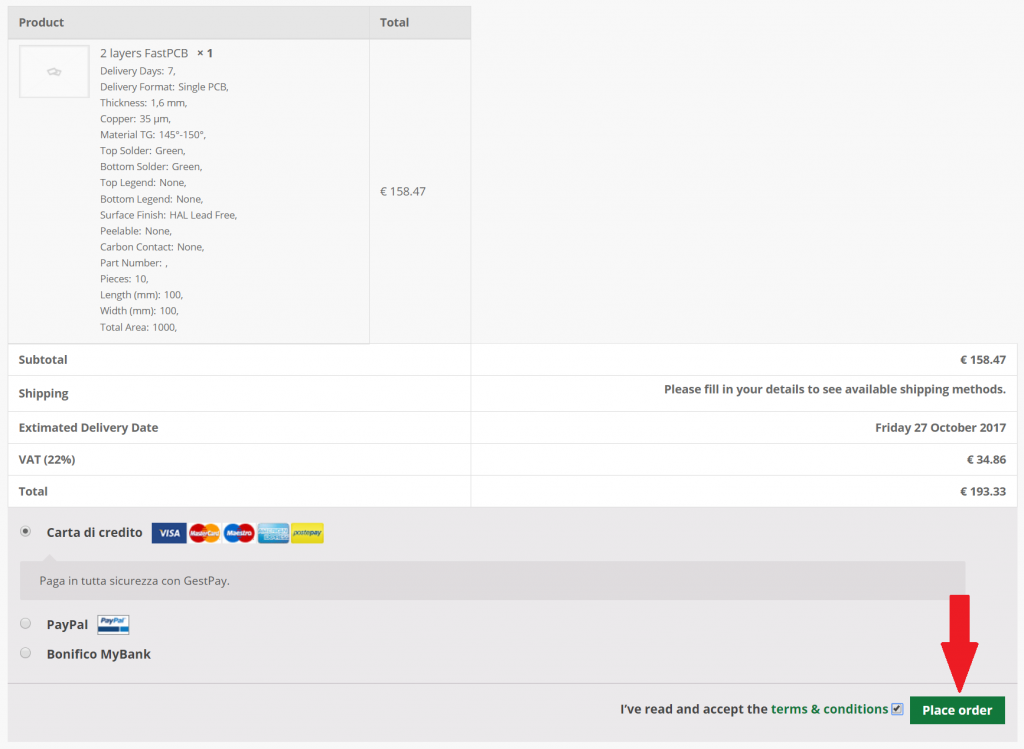 Transfer to the payment and checkout page requires acceptance of the PCB design guidelines and the terms and conditions of use specified by PCB Online s.r.l. Once you submit the order you will be directed to the checkout where you can attach the file.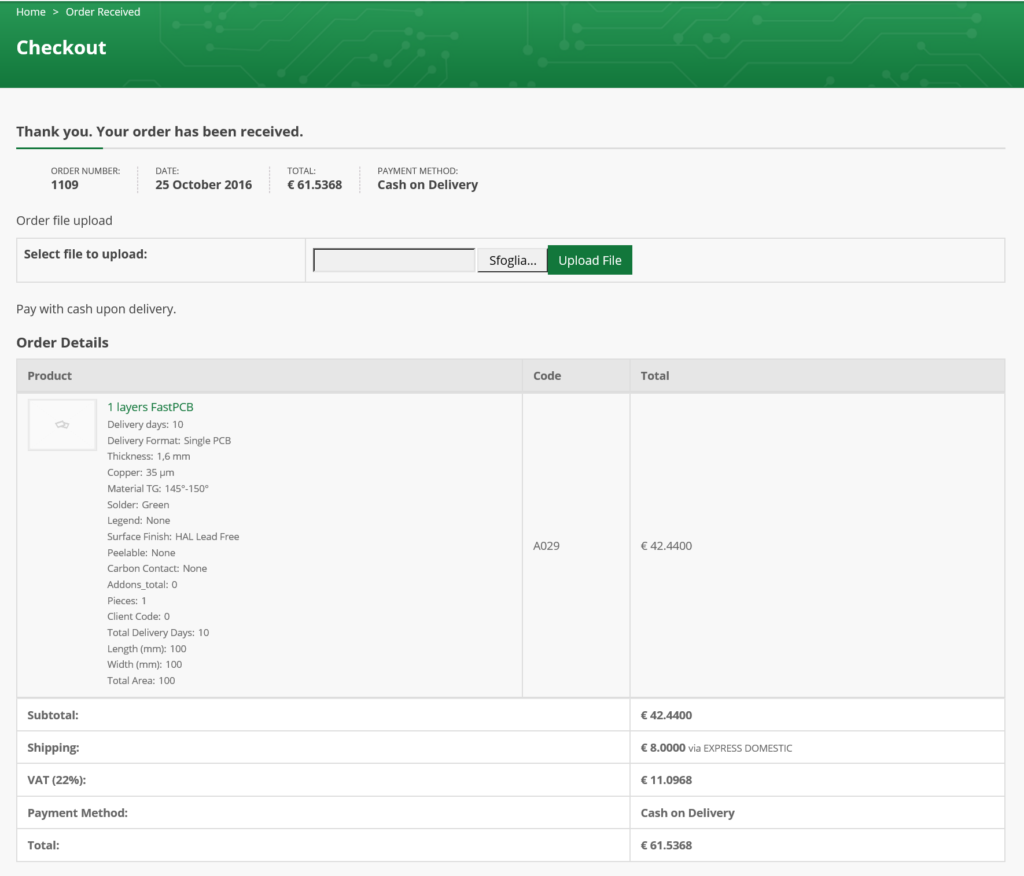 We recommend that you include all necessary files in a compressed archive (.ZIP or .RAR) to have a quick report on file transfer accuracy (through file checksum control).
New user?
You are not currently signed into PCB Online s.r.l. and other online services?
You can calculate the price of your circuits on our price calculator even if you are not registered, but ordering must be registered. Just go check in and fill in the short form.

Order confirmation: After confirmation of payment (Credit / Paypal / MyBank) the order can be confirmed.
After the order is confirmed, the circuit passes to the production phase.